Biodynamic Craniosacral Therapy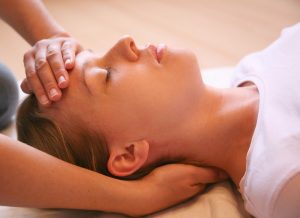 Biodynamic Craniosacral Therapy, or BCST, often helps people suffering from anxiety, stress, pain (e.g joint, muscle, back, head pain), nervous disorders and digestive problems, along with a number of other body issues.
BCST sessions involve lying on a massage table while the practitioner makes light, non-manipulative contact with the body. Common places of contact are the head, shoulder, abdomen, sacrum (lower end of the spine) and the feet. The practitioner listens to and works with subtle rhythms of the body's nervous system, soft tissues, bones and fluid.
This gentle, receptive and non-judgmental contact allows the body to 'tell its own story' and recognise what it is holding on to. It can then begin to change at its own pace and move towards its own inner 'blueprint' for health.
Treatments can result in
Lower levels of anxiety
Release of stress and emotions
Pain relief
Increased energy levels and improved sleep
Reduced muscle tension
Restored balance in the nervous system and other key systems
Improved joint alignment and mobility
Improved blood flow (aiding digestion and other processes)
Release of stress and emotions
Book your BCST appointment at our clinic in Carlton North, Melbourne.  Use the link below or call us on 9347 9247 to find out if BCST could be beneficial for you.
Testimonials
Here's what some people have said about Biodynamic Craniosacral Therapy with Matthew.
"I had eight amazing craniosacral sessions with Matt, each time left my feeling lighter, more relaxed, connected to my body. I have had anxiety for many years and also had recently been through a pregnancy loss and the sessions with Matt really helped me to integrate the experience. It worked amazingly with my anxiety too, to help soothe my nervous system and find deep relaxation of both my body and my mind. I am so grateful for the sessions and they really helped improve my quality of life in a big way. Thank you, Matt!"
– Amanda, 2016
"I suffered a traumatic achilles injury six months ago which resulted in two major surgeries four weeks apart. I was getting chronic headaches nearly every day. After one session with Matt my headaches completely disappeared and I didn't have to go back for another treatment. I felt my body completely let go of whatever stress it was holding onto while working with Matt and find the rhythm it had been lacking for months!"
– Jess, 2016
Fees
First session (1 hour): $130 full / $100 concession
Follow-up session (45 min): $110 full / $80 concession
Our Craniosacral Therapist