Intuitive Bodywork can help create balance: physically, emotionally and energetically.
With over ten years' experience as a bodyworker, Fiona Budini employs techniques from Myotherapy, Neurofascial mobilisation, Bowen Therapy, Energy Healing, and Spiral.
Using these, she creates a unique session for each client based on their emotional, energetic and physical needs.
During a session, Fiona looks for the underlying causes of your condition rather than just addressing symptoms. Using very gentle hands-on techniques allows your body to drop into a deeply relaxed state. From this place of receptivity, blocked aspects of the myofascial – caused by stress, trauma and injury – can be released.
You can expect this session to be much gentler than deep tissue or remedial massage.
Our Intuitive Bodywork Therapist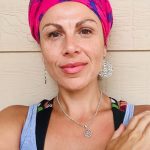 Fees
60 minutes $110
90 minutes $160

Hicaps private health insurance claiming may be available on your treatment. We recommend you contact your health fund to confirm your eligibility to claim.
Gift Vouchers
Gift vouchers for this treatment are available to purchase online.
Buy Gift Voucher